I have mentioned a few times how much I enjoy the Dark Sun setting, so it is about time I made some characters for it. For this we are going to be using AD&D 2e, because, in my mind, it is the best version of D&D but also because the setting was designed using 2nd ed, which makes it work best for the setting.
There have been fan-made rules using 3rd and 5th editions, as well as the official 4th edition rules. I will look at 4th edition to make characters in Dark Sun at some point – I actually liked 4th ed, more so than 3rd ed, as it has some interesting ideas for Dark Sun, as well as some interesting classes, but for me Dark Sun has and always will be 2nd ed.
Before we get started, there are a few things to cover. Dark Sun characters are a little different to vanilla 2nd ed characters. The setting was designed to turn traditional fantasy on its head, and that is reflected in character creation as well. Races are changed, classes are changed and even character generation is a bit different as well.
Back in 2nd ed, characters were not equal. Players rolled for their stats, which means sometimes you got characters with really good stats and sometimes you got bad stats. Those days are gone, which is sad, because rolling stats was fun. You never knew what you were going to get.
For vanilla AD&D, your stats were in the range of 3-18. The basic methods was you rolled 3d6 for each stat in order and noted what you got, which meant the outcome of the dice often determined what race and class you could play. There were alternative options provided as well, the most common one from what I have seen and heard was roll 4d6 and drop the lowest, then assign the results to the stats you wanted. Then end result was slightly higher stats and more choice as to what you played.
Dark Sun characters had better stats than vanilla AD&D. The basic method for them was not 3d6 but 4d4+4, meaning your stats were in the range of 8-20. The equivalent to 4d6 drop the lowest for Dark Sun was 6d4 drop the lowest and assign, but once again there were other alternatives provided as well.
On top of that, the races had bigger stat modifiers. Vanilla races got +1 to one stat and -1 to one state (except half-elves and humans, who got none.) Dark Sun races had more stats modified, with bigger modifiers. A vanilla dwarf had +1 CON and -1 CHA. An Athasian dwarf is +2 CON, +1 STR, -1 DEX, -2 CHA. The most extreme example is the half-giant, who gets +4 STR, meaning that with good rolls it can start with 24 STR. The maximum possible is 25.
Dark Sun characters also start at 3rd level, so they are a little more capable when they start playing.
And all Dark Sun characters are a little bit psionic. If they don't have the psionicist class they have a random wild talent, which could be anything, ranging from near useless to amazingly useful. Normally the chance for a wild talent is around 1%, if you play with the Complete Book of Psionicists. Dark Sun PCs automatically get it.
So, yes, Dark Sun characters are a lot more powerful than regular vanilla characters. They need to be just to survive. When you start playing, you make up a character tree of four characters which you can swap in and out as you need.
You are going to need them, as Dark Sun is a setting with a high chance of death. 2nd ed tended to see more character deaths than later editions, which toned that down, but Dark Sun, by its very nature, if run properly, was even more brutal than vanilla 2nd ed.
There were no places of safety; everywhere was a battle for survival. Cities weren't places of refuge; they were places of corruption, suffering and arbitrary laws, ruled over by ancient and incredibly powerful sorcerer-monarchs who were evil to the core. Outside of the cities was wasteland where every drop of water was precious and everything was dangerous, even the plants, many of which had psionics as well.
For regular D&D, the adventure started when you got to the dungeon. In Dark Sun, getting to the dungeon was an adventure in itself. The oasis you stumble upon? Yeah, in a regular world that would be a nice place to rest, but on Athas if the inhabitants, be it people or monsters, don't try to kill you then the plants just might. And if there are none of those it might be because the water might try to kill you as well.
Yes it was brutal. Yes, you might lose characters. But it was different, had atmosphere and was fun for it.
So tougher characters, but what else was different?
Well, the races for starters. Standard races had a different spin on them and there were also new races added in.
Humans were pretty much humans, not really that much different than elsewhere, except for on average being a little bigger and maybe having a few cosmetic mutations due to centuries of abusive magic scarring the world. They might have slightly odd colourations, or webs between fingers or limbs of odd length but they could fit in anywhere.
Halflings are not the jovial, relaxed types normally seen. They don't live in peace in The Shire. No, in Dark Sun they are feral cannibals that live in the last remaining pristine part of the world and kill any interlopers who trespass in their territory. (Technically they aren't cannibals as they don't eat other halflings but they see all other races as food.)
Athasian Elves aren't the wise, long lived types who make their homes in the forests so typically of elsewhere. They are instead taller than humans, live not much longer than humans and are mostly members of nomadic tribes who travel everywhere on foot. To ride a beast of burden is seen as weakness. They are also traders but seen by everyone else as untrustworthy, underhanded, swindlers and thieves.
Half-elves are solitary self-sufficient loners rejected by both their human and elvish sides, as humans don't trust them for their elvish blood and elves look down on them as not being pure elves. Yet at the same time they crave acceptance of those who have rejected them. They tend to get on better with other races who don't judge them because of their blood.
Athasian dwarves are bald and beardless. Probably for the best in the heat of Athas. They also love toil, becoming hyper-focused on the task they are attempting. This foci they concentrate on with single-mindedness for weeks, months, years or even decades until they complete it. If they die with a focus unfulfilled, they return as a banshee to haunt their worksite.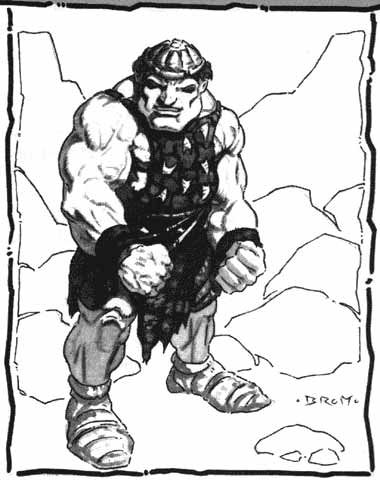 Gnomes don't exist. Technically, they don't exist anymore. A lot of standard fantasy races, like gnomes, orcs, trolls, ogres and more used to live on Athas but went extinct at some point in the past.
Three new player races were added for Dark Sun; muls, half-giants and thri-kreen.
Muls are sterile half-dwarves who have the toughness of their dwarven parents and the height and cunning of their human parents. They are also noted for their extreme endurance, being able to continue working long after anyone else has collapsed from exhaustion. For this reason they make prized slaves and most are bred into captivity.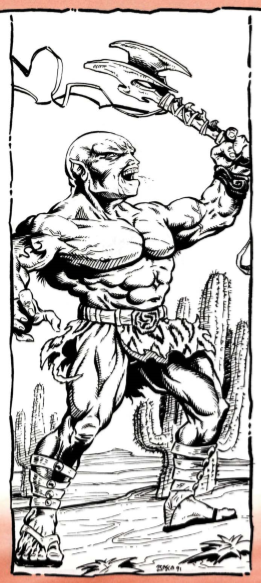 Half-giants are large and extremely strong, but not exactly bright, though they are friendly and eager to please. This eagerness sees them tend to have a fluid alignment, mimicking whoever they are trying to fit in with. While their size may give them formidable strength, it is not without its downsides, namely needing to consume much more food and water than others and needing to pay more for larger equipment.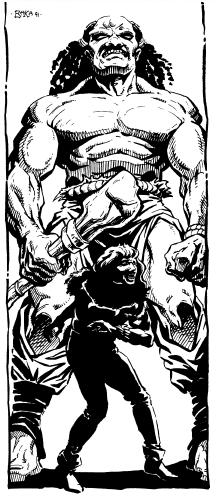 Thri-kreen are a race of mantispeople. 2nd ed's thri-kreen looked more like actually mantises but later editions turned them into mantismen, walking upright and with a more humanoid look. They are incredibly short-lived, at most reaching 35, but they make up for that by not sleeping, needing very little water, having natural armour, being able to leap, having natural weapon attacks and being able to produce poison. They really are the most alien of all the player races though.
So that is the races, but what about classes?
For starters there are no paladins on Athas. This is because there are no gods (though the sorcerer-monarchs like to pretend they are.) So how does this affect the priest classes? Instead of gods they worship the elements – earth, air, fire and water.
Clerics choose one of the elements to worship and receive a spell list based on that element. As can be understood, a cleric of water is very much in demand as they can produce water, albeit on a much reduced amount compared to vanilla. Their weapons and armour are shaped by their choice of element as well.
Druids nurture and protect a specific geographical feature of the land, and draw their strength from that feature. What element they have access to depends on the feature they protect – a mountain would give them access to earth while a volcanic vent would be fire. Within their guarded lands they get many bonuses but they are enemies to all defilers given the way they have ravaged the lands.
Templars are a new priest class, the disciples and bureaucracy of the sorcerer-monarchs, with access to cleric spells granted to them via the sorcerer-monarchs they work for. Inside their home city they have vast arbitrary powers which get stronger the higher level they are, but outside their city those powers are non-existent, and they really have to take care in rival cities. Even in their own city, infighting and back-stabbing are rife.
Thieves are mostly unchanged from vanilla for the most, with the difference being they eventually find a noble patron to work for. Bards are still entertainers, but they are also spies and assassins. They lose the ability to cast magic and instead pick up the full array of thief skills and also the ability to use poisons, including some very nasty ones, even at low level.
Rangers are also largely unchanged, except that they also choose a elemental plane to worship and get their priest spells from that list. Athasian Fighters are masters of mass warfare. Eventually they begin to attract followers in the form of a small army that grow more and more numerous the higher level they reach. Dark Sun was designed with the Battlesystem rules for warfare in mind, which is what fighters use.
There is also a new warrior class available, the Gladiator. They do one thing, and they do it very well – fight. They can use any weapon without penalty and specialise in more than one as well.
The remaining classes are wizards. Arcane magic draws life out of the land to power it, and rampant use of arcane magic over the centuries is what led to the ecological devastation on Athas. Needless to say, it makes people not exactly fans of wizards. There are two types of wizards, the Defiler and the Preserver. The Preserver takes care to minimise or negate the damage they cause when casting spells but the Defiler doesn't. They rip what they need from the land, leaving destruction in their path. It means the Defiler gains power faster than a Preserver, but they are hated by everyone, even other Defilers who see them as rivals. Preservers at least have some that won't hate them.
All this has gone on a bit longer than I first planned, which means next time we will start actually working on characters, rolling the dice and seeing what we come up with.